On 28th September, the CounterRisk project's multiplier event took place at Lucentia Lab's headquarters located in the Open Space Technology Torre Juana, in Alicante.
This training activity was aimed at consumer organisations, companies related to new technologies, students and educators and more than 60 participants attended. 
The event was divided into short presentations related to the safety of children's products and the risks they pose, how to identify these products and how industry and authorities can help consumers combat them. The role of intellectual property in counterfeiting and how to choose a good place to shop were also discussed, as well as the role of new technologies, in particular blockchain, in protecting these children's products.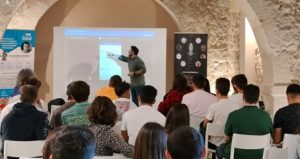 Attendees had the opportunity to learn about the NOOC1 m-learning training tool, which helps to improve skills in intellectual property protection, child product safety and how new technologies can be both a consumer and industry ally in demonstrating the authenticity and safety of products.
The NOOC is a free online nanocourse where users can choose what to learn and when through small training pills composed of videos, graphic material, images, etc. and their corresponding activities.
The programme and presentations of the event will be available on the website www.counterrisk.eu soon.