On 30 March 2023, the final multiplier event of the European CounterRisk project organised by the Association for Toys and Play took place in Prague.
The event was attended about 40 participants from toys companies – producers, importers and wholesalers, IT specialists, trade inspectors and teachers from professional schools.
The event involved speakers from Association for Toys and Play, Czech trade inspection, Union of visual artist representing toys designers.
The event was structured around key areas:
Project presentation
The issue of combating counterfeits
Intellectual property rights
Application of new technologies for product protection
The program was opened by the chairman of SHH Mr. Miroslav Kotík who presented how SHH fights against counterfeits and defend the interests of Czech toys entrepreneurs.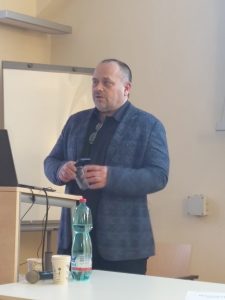 The project manager of SHH Mr. Jiri Stastny, presented the CounterRisk training tools which are free and open online nano-courses aimed at consumer organizations and companies in the children's products sector, with mini training pills in the form of videos, infographics, or texts with key content to address the dangers of counterfeit products from the perspective of child consumer.  Also explained that the project is not intended only for producers, but above all directly for consumers, inspectors dealing with market protection, customs authorities, consumer associations, designer educators and general consumer public.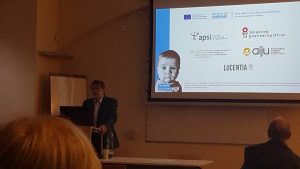 Mr. Jan Krnansky, head of consumer protection department from the Czech trade inspection gave a summary report on how the state control authorities fight against counterfeits and how they supervise the protection of intellectual property rights. In another part of his presentation, he gave a summary report on the scope of control of the Czech Trade Inspection in 2022, the type of products detained, the methods of their disposal and the penalties for offenders.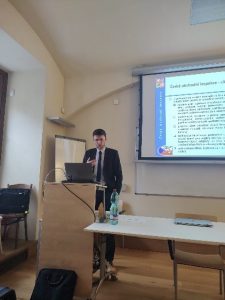 Mr. Oskar Bruza secretary of Union of visual artists representing toy designers explained how fakes harm the creator and presented a way of protecting them by using trademarks of origin and special marking for verified and awarded products. Presented also the new edition of the Right Toy Award – recommended by experts, which indicates that the toy is suitable from a pedagogical point of view for physical and mental development of the children
.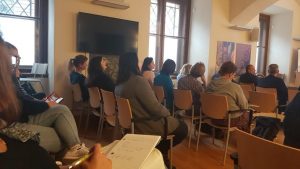 An important point of program was the discussion, where the interests of entrepreneurs and representants of state authorities were confronted. The manufacturer and importers were most interested in the possibility of using new technologies like Blockchain for the identification of products and product traceability. The staff of state control authorities showed great interest in the results of the project, how to recognize a fake, what documentation must the product have and about new technologies.
The meeting was unique opportunity to learn about CounterRisk training tools and the latest training content on product safety and intellectual property issues, essential for all those involved in the safety of children's products: consumers, companies, regulators and market surveillance authorities.
The presentation and conclusion of the meeting will be available on the SHH website www.sdruzenihracky.cz and in the magazine HRAČKA (The Toy)